Join HARRASSOWITZ at the 2016 ALA Midwinter Meeting & Exhibits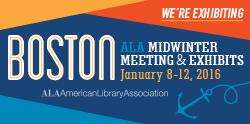 This year's ALA Annual Conference will take place at the Boston Convention and Exhibition Center in Boston, MA,
January 8-12, 2016.
Please stop by the HARRASSOWITZ booth (nos. 1660, 1661) to discuss HARRASSOWITZ's complete portfolio of acquisitions services.
Exhibit hours are:
Friday, January 8, 5:30 pm - 7:00 pm
Saturday, January 9, 9:00 am - 5:00 pm
Sunday, January 10, 9:00 am - 5:00 pm
Monday, January 11, 9:00 am - 2:00 pm
Attending from Germany will be:
Friday, January 8, 5:30 pm - 7:00 pm
Friedemann Weigel, Managing Partner and Director of Sales
Monika Krieg, Director of Publisher Relations - Director of Sales Europe
Regina Lichti, Head of Approval Plan Services
Attending from North America will be:
Tina Feick, Director of Sales and Marketing, North America
Pat Rodgers, Director of North American Library Services
Justin Clarke, Product Manager - Regional Sales Manager
Bill Sherfey, Regional Sales Manager
Kasia Stasik, Regional Sales Manager
Please contact service@harrassowitz.de or your Regional Sales Manager to make a booth appointment.
Free passes to the exhibit hall are available
More information about the 2016 ALA Midwinter Meeting can be found at the official conference website.
HARRASSOWITZ: Service. Quality. Integrity. Since 1872.