HARRASSOWITZ at the 2016 SCC/MLA in Galveston, Texas
This year's ALA Annual Conference will take place at the Orange County Convention Center in Orlando, FL, June 23-28, 2016.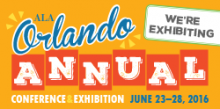 Please stop by the HARRASSOWITZ booth (booths 1038, 1039) to discuss HARRASSOWITZ's expert services.
Exhibit hours are:
Friday, June 24, 5:30 pm - 7:00 pm
Saturday, June 25, 9:00 am - 5:00 pm
Sunday, June 26, 9:00 am - 5:00 pm
Monday, June 27, 9:00 am - 2:00 pm
Attending from Germany will be:
Friedemann Weigel, Managing Partner and Director of Sales
Monika Krieg, Director of Publisher Relations and Sales Europe
Regina Lichti, Head, Approval Plan Services
Sebastian Weigel, Assistant to Director of Sales
Attending from North America will be:
Tina Feick, Director of Sales and Marketing, North America
Pat Rodgers, Director of North American Library Services
Justin Clarke, Product Manager - Regional Sales Manager
Bill Sherfey, Regional Sales Manager
Kasia Stasik, Regional Sales Manager
Please contact service@harrassowitz.de or your Regional Sales Manager to make a booth appointment or just stop by to see our new look.
For free passes to the exhibit hall, (promotional code: V474)
More information on the 2016 ALA Annual Conference and Exhibit can be found at the official conference site.


HARRASSOWITZ: Service. Quality. Integrity. Since 1872.